SAP Customer Data Platform (CDP) is a system that centralizes customer data from all sources within a business and makes it available for use in other customer interaction systems. With real-time data analysis, you can track your multi-channel campaigns from a single screen and support every interaction with reliable and accurate customer analysis for sustainable revenue growth.
The SAP Customer Data Platform (SAP CDP) solution is based on a methodology that incorporates best practices and techniques across industries.
Built on a technology foundation that grows with your business, the SAP Customer Data Platform (SAP CDP) solution maximizes your customer data management expertise.



The SAP Customer Data Platform (SAP CDP) solution helps companies extract relevant customer insights at digital and face-to-face touchpoints for trustworthy and relevant interactions.
You can focus on new revenue opportunities, offer value-added commitments to the right customers at the right value, and use customer interactions in the most equipped way to achieve your growth objectives.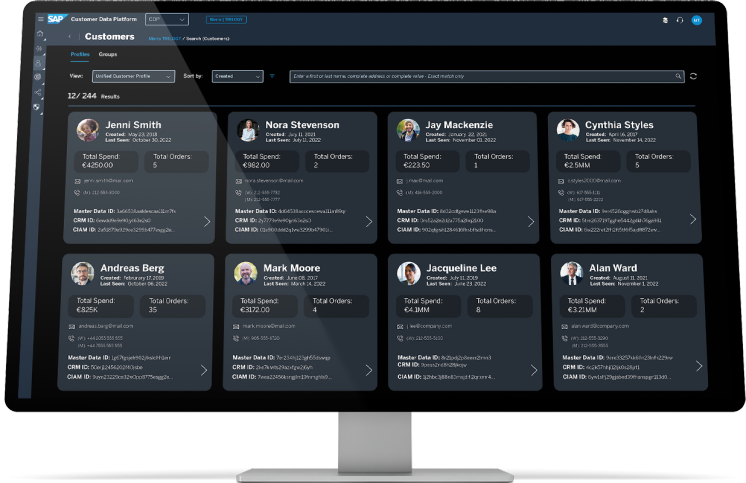 Discover the benefits of SAP Customer Data Platform (SAP CDP) solution
With the SAP Customer Data Platform solution, you can fulfill end-to-end commitments in real-time, increase your revenue, and maximize your growth rate by providing real-time business insights.
By providing ERP integration, you can maximize supply chain optimization and product innovation.
You can improve your target audience segmentation with real-time predictions and provide a personalized experience to your customers by identifying relevant trends for your target audience.
You can visualize customer profiles and related accounts.
You can ensure that customer data privacy is respected and taken care of during every transaction.
According to research, companies that follow customer needs and personalize their campaign processes on a customer basis experience an increase in annual revenues of up to 48%.